Premium Gin Infusions Botanicals Tea Pyramids 6 Unique Gin and Tonic Blends by Charbrew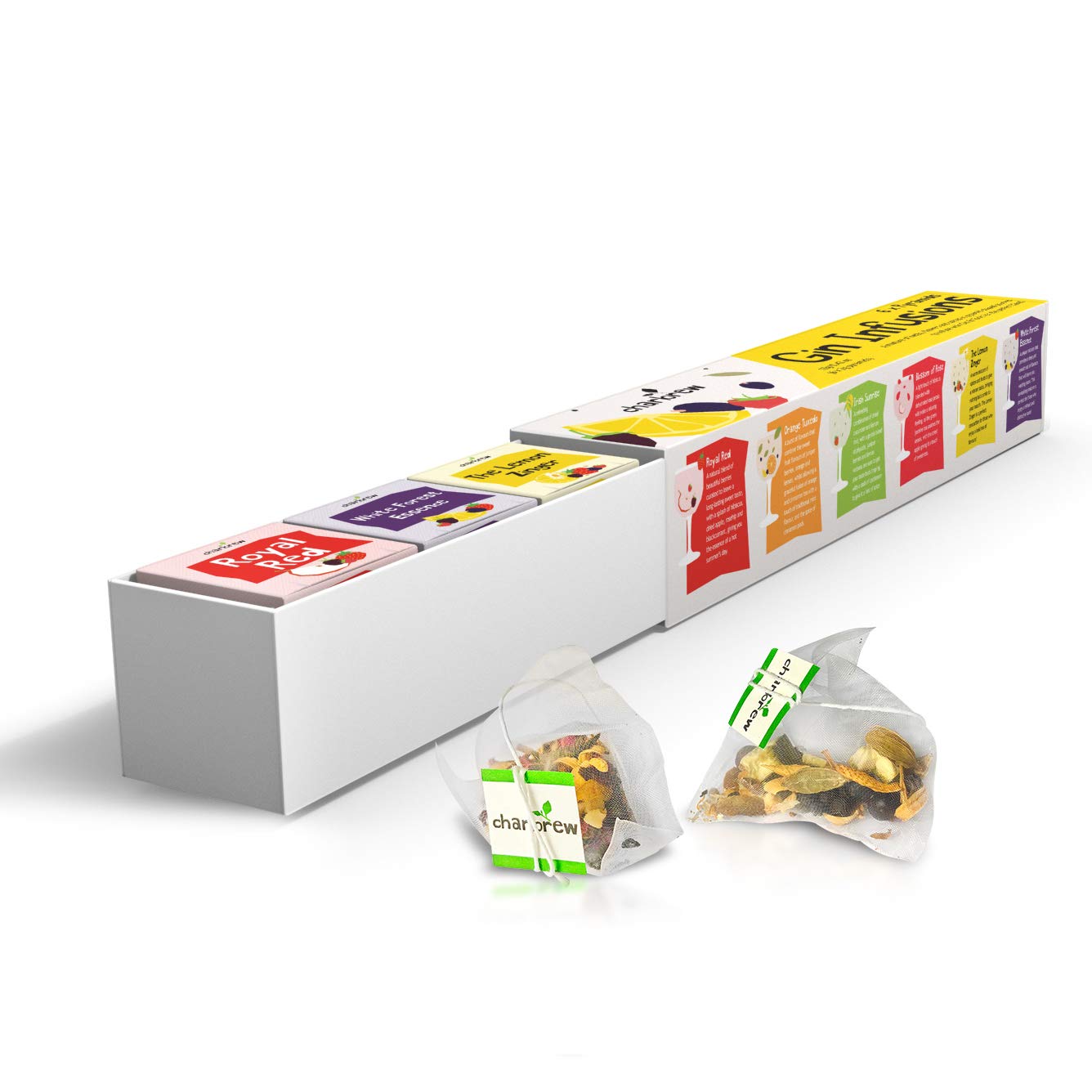 Premium Gin Infusions Botanicals Tea Pyramids 6 Unique Gin and Tonic Blends by Charbrew
Charbrew's Gin Infusion Set Contains 6 Individual Infusions Containing A Natural Mixture Of Herbs, Flowers And Spices In Pyramid Shaped Pouches To Infuse With Gin & Tonic For The Perfect Glass.
The Perfect Gift For the Gin Lover, Delivered In Mesh Tea Pyramids

Simply Pour 50ml Of Gin, Drop The Infusion Bag Of Your Choice In The Glass For A Few Minutes, Then Remove And Add Tonic And Ice.

Set Includes- Royal Red, Orange Tuxedo, Irish Sunrise, Blossom Of Rose, The Lemon Zinger

Suitable for Vegetarians and Vegans, Gluten Free And Low In Calories
At Charbrew, we're slightly eccentric about creating fantastic tasting teas. Jetting around the world with our trusty travel kettles, we find and use only the best natural ingredients to bring you healthy treats for your taste buds. Charbrew's Gin and Tonic Infusion set contains 6 individual infusions containing a mixture of herbs, flowers and spices in pyramid shaped pouches to infuse with Gin & Tonic for the perfect glass. Simply pour 50 ml of Gin, drop the infusion bag of your choice in the glass for a few minutes, then remove and add tonic and ice. For a stronger infusion leave the pyramid bag in for a longer time. Blend Included Are Royal Red - A natural blend of beautiful berries curated to leave a long-lasting sweet taste with a splash of hibiscus dried apple, rosehip and blackcurrant giving you the essence of a summers day Orange Tuxedo- A burst of flavours that combined the sweet fruit flavours of juniper berried, lemon whilst allowing a graceful fusion of orange and cinnamon with a touch of traditional mint. Irish Sunrise - A Refreshing Combination Of Dried Cucumber And Lemon Rind, With A Gentle Blend Of Physalis, Juniper Berries and Lemon Verbena Are Sure To Get Your Taste Buds Tingling With A Dash Of Cardamom To Deliver A Hint Of Spice. Blossom Of Rose- A Light Touch Of Hibiscus Blended With Dehydrated Rose Petals Will Evoke A Relaxing Feeling, As The Green Jasmine Tea Soothes The Senses, With Dried Apple Giving A Touch Of Sweetness The Lemon Zinger- A Warm Mixture Of Spices And Fruit To Give A Vibrant Taste, Bringing Nothing But A Smile To Your Mouth, The Lemon Zinger Is A Perfect Concoction For Those Who Enjoy A Bold Mix Of Flavours!